Burlington Capital's a full-service property management company currently managing over 10,000 units including market-rate, affordable, student, senior, military and condominium properties throughout the United States.  We are well positioned to assume additional management opportunities. Our goal is to enhance the overall performance and value of each property we manage. We have nearly 30 years of experience in the property management industry having managed 180 properties with over 35,000 units in 24 states. Our experienced personnel and practical knowledge of the industry allow us to implement innovative management techniques that ultimately benefit our clients, investors and residents.
Burlington Capital manages properties located throughout the United States in a number of diverse markets. Our experience with financing structures varies from conventional financing, tax exempt bonds, low-income housing tax credit (LIHTC) and HUD. We believe the success of a property management organization relies on the foundation of its employees. We support our site personnel with:
Ongoing training of employees to ensure skills are current
"Real-time" data via Internet and intranet applications to identify trends and implement action plans
Flexible financial software to generate customized reports
Ongoing reviews of performance to improve management and increase cash flow at the properties
Regional supervision and centralized accounting, marketing and compliance
Burlington Capital is an Accredited Management Organization (AMO), which is the highest level of recognition given to real estate management firms. Conferred by the Institute of Real Estate Management (IREM), the AMO designation is reserved for the nation's top management companies.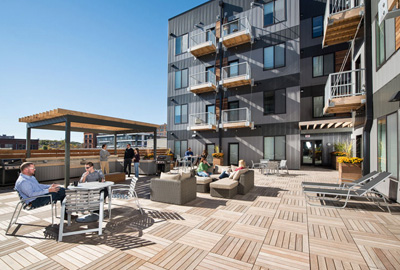 Communities
Burlington Capital manages properties for its affiliated investments and third-party clients. Our managed property portfolio includes: